Ofsted
WHAT OFSTED SAY ABOUT BRACKEN EDGE
---
BRACKEN EDGE CURRICULUM
The rationale for the curriculum is well considered. The curriculum is rich in opportunities for pupils to develop a deeper understanding of a wide range of interesting subjects. As a result, pupils extend their experiences of the wider world. This enables them to develop a good understanding of British values.
---
SCHOOL LIFE
Extracurricular activities are wide and varied. Pupils talk positively about the enrichment experiences available to them every Friday afternoon. Involvement in projects with the local community, including local businesses and charities, contributes well to pupils' social development.
Pupils enjoy school. They contribute well to the life of the school. They are respectful. The vast majority of pupils demonstrate positive attitudes towards their learning.
One parent said: 'My child is well cared for and happy'. Another parent commented on the inclusive nature of the school where 'diversity is celebrated'
---
TEACHING AND LEARNING
Pupils have good relationships with their teachers. Pupils also work well with their peers. The school policy of providing opportunities for pupils to collaborate is consistently applied. Pupils told inspectors they enjoy working together to find things out for themselves.
Pupils who are new to English are well supported. Consequently, they develop their language and communication skills quickly. However, leaders acknowledge that there is work to do to ensure that arrangements for pupils more appropriately meet their specific needs on arrival.
Pupils are confident to express and share their views. On many occasions inspectors observed pupils helping and supporting each other with their learning. Success is regularly celebrated. This encourages pupils to work hard.
Pupils understand how to stay safe online. Older pupils, in particular, were able to tell inspectors how they protect themselves on the internet. The National Society for the Prevention of Cruelty to Children regularly visits the school to give talks on how to keep safe online. As a result, pupils keep up to date with any recent developments.
---
EARLY YEARS
Teachers plan high-quality activities indoors, often developed from children's specific interests. For example, during the inspection children wanted to write a letter. The teacher and children worked well together to write the letter and create an envelope to post in the letter box. Interactions showed the teacher skilfully using every opportunity to develop the children's vocabulary.
Staff use praise well to encourage responses from children. This also ensures that children behave well.
If you would like to read our most recent Ofsted report, please follow the link below;
Find an inspection report and registered childcare. Tell us whether you accept cookies. We use cookies to collect information about how you use this website. We use this information to make the website work as well as possible and improved Ofsted's services.
reports.ofsted.gov.uk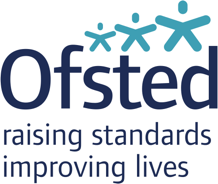 OUR LATEST REPORT